So far we have received mostly positive feedback about moving forward with the Liberal Gun Corner podcast.
If you don't know what were talking about you can find the post about the idea for the show at the Gun Rights Radio Networks main website.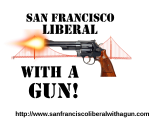 Post on The Liberal Gun Club Forum about this New show.
New podcast idea: "The Liberal's Gun Corner"
Host needed for liberal gun show on Gun Rights Radio Network